Contested Holy Site in Jerusalem Reopens for Muslim Worship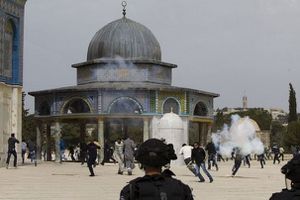 JERUSALEM — Thousands of Palestinians prayed Friday amid a heavy Israeli police presence at Jerusalem's most contested sacred site, after an extremely rare daylong closing that the authorities said was to prevent further escalation of intensifying hostilities. Men under 50 were barred from the Old City site, where an Israeli police spokesman said there were no major incidents, though officers used riot-control measures to disperse a protest in a nearby neighborhood.

Palestinian leaders had called for a "day of rage" because of the closing on Thursday and the killing by Israeli forces of a Palestinian man suspected in the assassination attempt Wednesday night against Yehuda Glick. Mr. Glick is a right-wing activist who promoted increased Jewish access and prayer at the site, known to Jews as the Temple Mount and to Muslims as the Noble Sanctuary.

By midafternoon, Israel Radio reported that there were "riots" at several locations in the occupied West Bank, including Rachel's Tomb in Bethlehem and the often-tense city of Hebron.

About 15,000 people, fewer than on a typical Friday, attended noon prayers at the two Islamic shrines on the revered plateau: men at Al Aksa Mosque and women at the Dome of the Rock. Some young men seemed to have sneaked in, and others cursed Israeli police officers for checking identification. But the crowds dispersed quickly in a drizzling rain.

Mohammed Obeidat, a 50-year-old construction worker who was inside the mosque, described the Israeli restrictions as unjust. "There is no state in the world which prevents prayer at the mosque, except Israel," he complained. "They want to tell us, 'We are the boss here.' "

Arafat Abbas, 35, was among about 200 people who prayed at the Lion's Gate to the Old City after being stopped at one of several police checkpoints around the Aksa compound.

"Things are moving from bad to worse," said Mr. Abbas, who lives in the Old City. "They want to control our mosque. People will not stay silent."

Micky Rosenfeld, a spokesman for the Israeli police, said shortly after the end of noon prayers that "things are relatively quiet" at the site and across Jerusalem.

"There were no major incidents reported on the Temple Mount," he said. "There were a few firecrackers in the Old City, nothing major."

In the adjacent Palestinian neighborhood of Wadi al Joz, a "strong police presence" dispersed a restive crowd, Mr. Rosenfeld said.

The contested Jerusalem site, where ancient Jewish temples once stood, is the holiest in Judaism, the third holiest in Islam, and also sacred to Christians as Jesus worshiped there. Israel seized it with the rest of East Jerusalem and the West Bank in 1967, but immediately handed back control of everything but security at the site to the Islamic Waqf, which is run by the Hashemite Kingdom of Jordan.

A small band of religious Jews, including Mr. Glick, a 48-year-old Israeli-American who was seriously wounded by four gunshots on Wednesday night, have agitated in recent years against Israel's prohibition of non-Muslim prayer at the site, with some calling for a third temple to be erected there. Palestinian, Jordanian and other Arab and Islamic leaders have warned that this could lead to a holy war, and clashes between worshipers and security forces have become more frequent.

The site is the most contentious in a deeply divided city that has been roiled by tension and violence since the start of summer. A spokesman for Mahmoud Abbas, the Palestinian president, called the closing on Thursday "a declaration of war."

Prime Minister Benjamin Netanyahu of Israel has tried to calm the situation by making clear that he has no intention of changing the status quo in the city's holy sites, and by adding 1,000 police officers to Jerusalem's streets in recent days.

Yitzhak Aharonovitch, Israel's minister of internal security, toured the Old City on Friday and explained in a radio interview why the government had closed the sacred site the day before.

"We took this step to prevents riots, and today, we already allowed it to open for Friday Prayer," he said. "I will not allow the Temple Mount to be damaged, and I will not change the status quo."

Israel Radio reported that one of Israel's chief rabbis met on Thursday with a leading Islamic cleric and that the two had called for freedom of prayer and an end to the "cycle of blood."

Separately, Rabbi Aryeh Stern, one of Jerusalem's two chief rabbis, was quoted on the Israeli news site Kipa, as saying that while he did not believe that Jews should ascend the Temple Mount, he also did not think the Israeli authorities should prevent them from doing so.

"When we hear about places around the world where Jews are not allowed in, we are shocked," Rabbi Stern said on the news site. "And here we accept this."

"It must be clarified that the place of the people of Israel on the Temple Mount goes without saying," he added.

Israel allows Jews and other non-Muslims to visit the site at certain hours, but they are prohibited from openly praying there. The authorities occasionally bar Muslims from the site during Jewish holidays, or close it to non-Muslim visitors, citing security concerns.

Around 5 a.m. Friday, more than 1,000 Palestinians lined up in five long rows at Al Aksa for the first of Islam's five daily supplications.

Some older men sat on plastic chairs, and one in a wheelchair, unable to bow or kneel.

"May Allah deny his mercy to those who prevent us from entering Al Aksa," the imam said.
Source: The New York Times (USA)
http://www.nytimes.com/2014/11/01/world/middleeast/jerusalem-al-aksa-mosque-temple-mount-noble-sanctuary.html?ref=world&_r=0
Relayé par: Laura Roche
Partager cet article
Pour être informé des derniers articles, inscrivez vous :