Philippine rebels blame government for deadly clash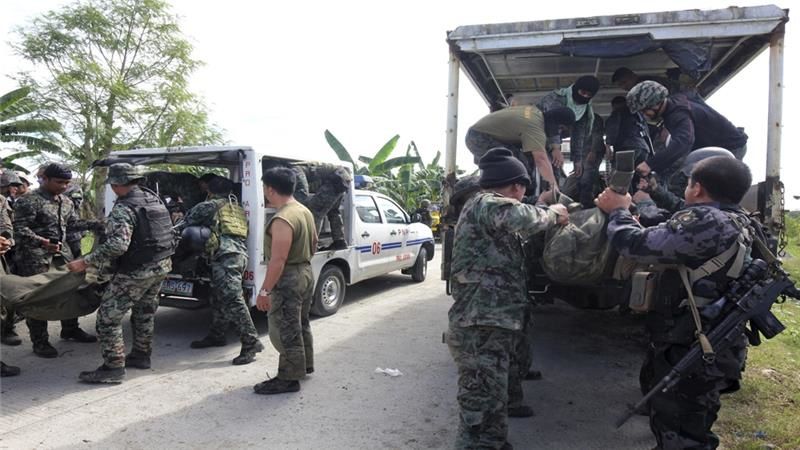 The Moro Islamic Liberation Front (MILF) armed group has said the Philippine government violated a ceasefire agreement when police special forces carried out a pre-dawn operation in rebel territory, resulted in the deaths of at least 43 police commandos.
Robert Maulana Alonto, a senior MILF leader, said in a statement to Al Jazeera on Monday that police failed to coordinate with ceasefire observers when they launched an assault in the southern island of Mindanao on Sunday.
As of Monday evening, a source in Maguindanao province, the site of the clash, told Al Jazeera that the bodies of 43 police officers had been recovered. But as many as 64 special forces may have been killed, according to local media reports.
Alonto said MILF forces acted in "self-defense" when police started shooting. At least five rebels were also killed.
"It is but a natural reaction on the part of the MILF forces to defend their areas when it is invaded by armed elements, especially in the wee hours of the morning or in the dead of the night."
Philippine interior minister Manuel Roxas III has called the fighting a "misencounter" and ordered a probe into the clash, the biggest single-day combat loss for the government in recent years.
The deadly incident threatens a peace agreement signed last year by the government and the MILF, the largest Muslim rebel group in the Philippines. Congress is currently debating legislation governing the autonomous Muslim region.
Local reports said police were going after Basit Usman, commander the MILF splinter group Bangsamoro Islamic Freedom Fighters (BIFF), and Malaysian bombing suspect Zulkifli bin Hir, who was believed to be hiding in the area.
The Malaysian national, also known as Marwan, has been identified as a leader of Jemaah Islamiyah, Southeast Asia's largest al-Qaeda affiliate. The US has offered $2 mln for the capture of Usman, and $5 mln for Marwan.
According to media reports, Marwan may have been killed by police commandos during the assault, but his body has not been recovered. The MILF, however, said the suspect was not even in the area, and denied shielding the suspect.
Alonto accused the police force of rushing to capture Marwan "in the race to bag the 'valuable' target" and claim the bounty.
Source : Al Jazeera
http://www.aljazeera.com/news/2015/01/philippine-rebels-blame-government-deadly-clash-150126150825982.html
Relayé par : Alix Carlier
Partager cet article
Pour être informé des derniers articles, inscrivez vous :