India tightens security after bomb blast in the south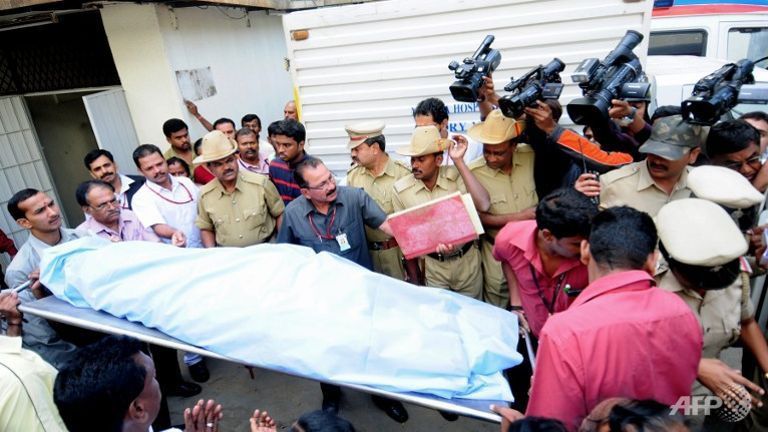 Indian officials carry the body of 38-year-old Bhavani Devi from a hospital in Bengaluru on Dec 29, 2014, after she succumbed to her injuries following a bomb blast in the southern Indian city late Dec 28. (Photo: AFP)
By Zain Awan, Channel NewsAsia
POSTED: 29 Dec 2014 21:00
No militant group has claimed responsibility for the blast in the southern city of Bengaluru on Sunday (Dec 28), but India's home ministry has tightened security in all vulnerable cities after the attack.
NEW DELHI: Security has been tightened in India after a bomb blast killed one woman in the southern city of Bengaluru.
India's home ministry has called the incident "an act of terror". But so far, no militant group has claimed the responsibility for the blast on Sunday (Dec 28).
The explosion killed a woman, 38-year-old Bhavani Devi, and injured three others in Bengaluru. Preliminary reports suggested that the improvised explosive device, which was triggered with a timer, was placed outside a popular restaurant in the heart of the city.
Junior Home Minister Kiren Rijiju said: "Definitely, it's a terror attack. We have to upgrade the security apparatus. We have to increase the level of alertness."
Known as the IT hub of India, Bengaluru had been on a high alert since the arrest of a youth last month for allegedly running a pro-Islami State twitter account. The account sent out an array of information about the group's activities.
Over the past six years, the city formerly known as Bangalore has been hit by several blasts, the worst being the explosions in 2008 which left over a dozen injured. Some security experts feel the latest attack was most likely the work of the Indian Mujahideen, a group responsible for most of the previous strikes in the region.
Security expert Qamar Agha said: "All indications show that it is one of those typical IEDs (improvised explosive device) used earlier by Indian Mujahideen. They have been consistently targeting the mega cities of India, which are the business hub of this country."
Meanwhile in the aftermath of the latest attack, authorities have stepped up security in all vulnerable cities in the wake of ongoing year-end festivities.
- CNA/al
Source : Channel News Asia (Singapour)
http://www.channelnewsasia.com/news/asiapacific/india-tightens-security/1555972.html
relayé par H.G
Pour être informé des derniers articles, inscrivez vous :