2-6th Cavalry prepares for Korea deployment
SCHOFIELD BARRACKS, Hawaii (Dec. 1, 2014) --The Soldiers assigned to 25th Combat Aviation Brigade, 25th Infantry Division, vigorously trained day and night here, in a brigade-wide field training exercise to validate 2nd Squadron, 6th Cavalry Regiment, as they prepare for an operational deployment to Korea.

The focus of this combined training exercise was aimed at the individual, team, scout weapon team and company level as the forces integrated for modern battlefield training while maneuvering from one location to another.

"This field exercise is our culminating training event for our pending deployment to Korea. We are doing to the individual task and working our way up to see where our Soldiers stand," Command Sgt. Maj. Gerardo Gonzalez, 2-6th Cavalry senior enlisted advisor. "As the command sergeant major to the squadron, I also wanted to see where troops stand on everyday tasks."

The training challenged Soldiers with realistic scenarios, to include engaging mechanized enemy forces and water gunnery training. This was an opportunity for Soldiers to learn from their mistakes and to build unit cohesion.

Additionally, Soldiers established fuel points, rearming points, conducted convoy operations and relocated 95 pieces of equipment from one side of Oahu to the other.

"Our troops are experts and being able to jump from Oahu to the Big Island [of Hawaii] and re-establishing themselves, arm and refuel our helicopters; [this] is one thing this regiment does very well," Gonzalez said. "This training is incredibly helpful to the 25th ID supporting the Pacific area of responsibility.

While on the Big Island, Soldiers were tested with a live-fire exercises, reconnaissance and security. In addition, petroleum specialists set up mobile gas stations to ensure every Soldier had the opportunity to sharpen their military occupation specialty, as well as, common skills tasks.

Because of the unique terrain, Hawaii provides a genuine battlefield environment, which will to prepare for their future deployment to the Korean peninsula. As a result, training over land and water would play a role in the culmination event of the training exercise with air and ground integration.

The operation began on Wheeler Army Airfield and ended in the Kahukus Training Area. Similar to the upcoming mission in Korea an infantry platoon was air assaulted into a location to deter enemy forces.

"We had the ability to train at several different locations in Hawaii over water and land, in a similar operations environment that we encounter in Korea," said Maj. Mark Fulmer, 2-6th Cavalry operations officer in charge.

The 2-6th Cavalry will have the vital task of assisting the local forces and the Republic of Korea to discourage aggression in the peninsula, while attached to Eighth Army.

"Our ability to react here allows us to go out and do the humanitarian assistance and disaster relief throughout the Pacific in support of U.S. Army Pacific," Fulmer said. "In Korea, we will be able to do the same operations tactically."
Source: WWW.army.mil
Link: http://www.army.mil/article/139140/2_6th_Cavalry_prepares_for_Korea_deployment/
Relayé par: Q.W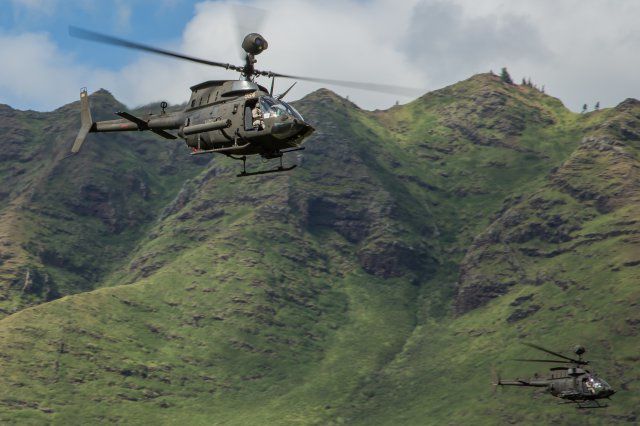 Partager cet article
Pour être informé des derniers articles, inscrivez vous :