Thailand declares state of emergency for protests
BANGKOK--Thailand's government on Jan. 21 declared a state of emergency in Bangkok and surrounding areas to cope with protests that have stirred up violent attacks.
Labor Minister Chalerm Yubumrung announced that the measure will take effect Jan. 22 and continue for 60 days.
The emergency decree greatly expands the power of security forces to issue orders and search, arrest and detain people, with limited judicial and parliamentary oversight.
The protesters have been demanding the resignation of Prime Minister Yingluck Shinawatra to make way for an appointed government to implement reforms to fight corruption. Yingluck called elections on Feb. 2 but the protesters are insisting they not be held.
The state of emergency follows increasing attacks at protest sites for which the government and the protesters blame each other. These include grenades thrown in daylight and drive-by shootings. On Jan. 19, 28 people were wounded when two grenades were tossed at one of several protest sites set up at key Bangkok intersections.
Another grenade attack on a protest march on Jan. 17 killed one man and wounded dozens. No arrests have been made in either attack.
Nine people have been killed and hundreds hurt in violence since the protests began in early November. The protesters escalated their tactics this month with a threat to "shut down" the capital to prevent the government from functioning.
2014.01.21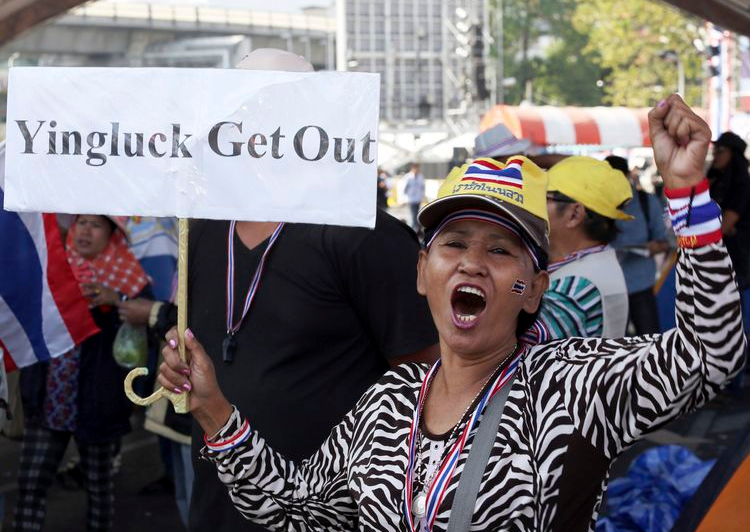 A Thai anti-government protester holds a placard and chants slogans during a rally at Victory Monument intersection on Jan. 21 in Bangkok, Thailand. Twin explosions shook an anti-government demonstration site in Thailand's capital, wounding dozens of people in the latest violence to hit Bangkok as the nation's increasingly bloody political crisis drags on. (AP Photo)
Partager cet article
Pour être informé des derniers articles, inscrivez vous :